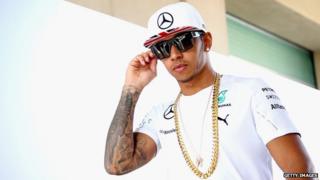 Getty Images
Lewis Hamilton will face teammate Nico Rosburg in the Formula 1 title showdown in Abu Dhabi.
Lewis, who's favourite with a 17 point lead, needs to win or come second to win the championship and says it's the biggest day of his life.
Rosburg was fastest in qualifying and said: "Lewis has everything to lose and I have everything to gain".
The two have been friends since childhood when they used to race go karts together but that friendship has been tested this year with clashes on the track.
Hamilton is no stranger to last day showdowns though - he won the title in 2008 on the very last lap.
Your comments
I think Lewis will win because he is very good! p.s. the race is on my TV right now!
Gemma
I am really hoping Lewis manages to grab the championship as I have been watching him through his ups and downs in F1. I hope that Bernie will realise how many people will become very angry with him if the double points ruins Lewis's year . I will be watching the race today and as you may now realise I am the No1 Lewis fan. Good luck to Lewis and I ask him to make Britain proud.
Nathan, Surrey, England
I think Lewis will win because he is a good racer.
Richard, Cornwall, England