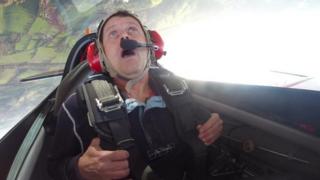 Aerobatic flying reaches dizzy new heights
If you combine Formula 1 and Olympic diving, what do you get? Aerobatic flying of course.
The sport involves flying a plane and carrying out tricky manoeuvres hundreds of metres up in the sky.
The World Aerobatic Championships are taking place this weekend in South Africa and BBC Sport presenter, Mike Bushell, went to meet a British couple who will be going for gold there.
Watch more Newsround videos