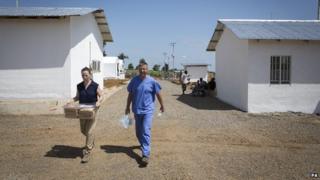 PA
The first group of NHS nurses and doctors, who have volunteered to help look after people with Ebola in West Africa, leave for Sierra Leone today.
It's part of the global effort to help tackle the virus which has killed more than 5,000 people in West Africa.
The team of around 30 medical professionals will complete a week's training before starting their work in treatment centres across the country.
To have your Ebola questions answered, watch our Q&A with a virus expert.