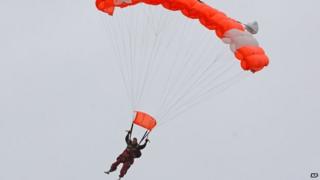 AP
From skydiving granny's to record breaking granddads, we wanted to know how adventurous your grandparents are.
The latest granny to hit the headlines this week was 75-year-old Norma Peace, who's taken up snowboarding.
She was inspired by her grandson to take up the sport in April and now loves it.
We asked how adventurous your grandparents are.
Here's a selection of your comments.
Your comments
My Grandma is amazing because she tries to go swimming nearly every day and she is 86.
Lauren
My Nan is very adventurous and she is up for anything. Once she went on a spinning cage ride! And even I did not go on it!
Louise
My Granddad is quite adventurous because he went skydiving a couple of times.
Sam, Derby, England
My granny jumps off rocks into the sea, ice skates, ski's and is 72!
Olivia
My grandpa is adventurous because he likes to do difficult puzzles.
Jessica, London, England
My granddad is 75 and he still goes on very big treks, he's even gone half way up Everest!
Tom, Aberystwyth, Wales
Our Gran still does tap dancing on a Wednesday night.
Joe, Tom, Lily, Oxfordshire, England
My granny is really adventurous because she travels the world and scuba dives there!
Ellie, London, England
My Grandma is a world champion athlete in the 60+ category and has lots of medals and trophies.
Tia, North Yorkshire, England
My Grandma and Uncle rowed the Atlantic ocean and it took 101 days!
India, East Sussex, England