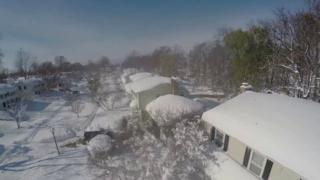 Snow-covered US city seen from above
A massive snowstorm has hit north-eastern America, dumping up to 1.5 metres of snow in some areas.
People have been trapped in their homes and cars, schools have been closed, and travel has been disrupted.
Filmmaker James Grimaldi from the city of Buffalo in New York state captured this aerial footage of his neighbourhood.
Watch the clip and hear him talking about waist-deep snow.
Watch more Newsround videos