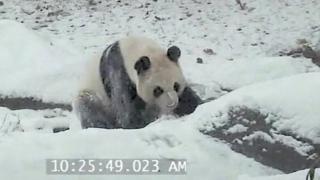 Watch: Panda has fun in the snow
Now we all dream of having a white Christmas, where we can wrap up nice and warm and go playing out in the snow.
So we all know how much fun this panda is having in Toronto Zoo, Canada.
Giant Panda Da Mao was caught on the zoo's camera having the time of his life in the snow. But unlike you or I, he had no need for a pair of gloves or woolly hat to keep the cold out.
Watch him go and maybe learn a new trick or two yourselves, just in case we do get some snow this Christmas.
Watch more Newsround videos