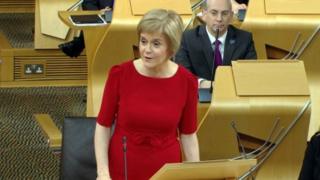 Scotland's new First Minister says she hopes to inspire girls everywhere after becoming the country's first female leader.
Nicola Sturgeon was voted in by the Scottish parliament on Wednesday and replaces Alex Salmond as both first minister and leader of the Scottish National Party.
Salmond stepped down losing the vote on Scottish independence in September.
There are now 20 leaders around the world who are women.
Talking about the new job she said: "I look forward now to getting on and doing it."
She also described becoming first minister as a "great honour and an immense responsibility".