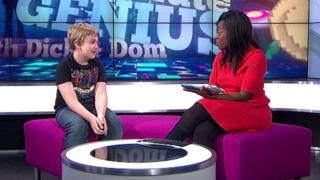 Appsolute Genius winner chats to NR
A boy from Hampshire has won the CBBC Appsolute Genius competition to design a game that will be turned into a free app and released across the UK.
Newsround announced this morning that 12-year-old Alex had won with the competition judges saying his 'Escargot Escape Artistes' was humorous, exciting and showed a great imagination.
The competition ran alongside TV series, Appsolute Genius with Dick and Dom, which meets the geniuses whose ideas have shaped the world of coding and gaming.
Alex came into the Newsround studio to talk about his wonderful achievement.
Watch more Newsround videos