A boy from Hampshire has won the CBBC Appsolute Genius competition to design a game that will be turned into a free app and released across the UK.
Newsround announced this morning that 12-year-old Alex had won with the competition judges saying his 'Escargot Escape Artistes' was humorous, exciting and showed a great imagination.
The competition ran alongside TV series, Appsolute Genius with Dick and Dom, which meets the geniuses whose ideas have shaped the world of coding and gaming.
Dick and Dom made a surprise visit to Alex's home to give him the news that he had won the competition and that his game will be released next year.
Alex, who wants to be a games designer when he is older, says he is still in a state of shock at his win and hasn't stopped smiling since he found out. He said: "Dick and Dom turning up at the house was amazing and they were incredibly funny and kind to me, as were all the CBBC crew.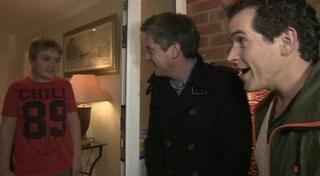 "I am so excited about helping to design my app because it will help me so much in my future game design career."
What's the game about?
Alex's game idea is set in Paris in the restaurant of the Eiffel Tower where the chef is trying to catch escargots, which is the French word for snails, to cook and serve.
Parachutes, jet packs and helicopters are also used as escape tools as the player moves the escargots up the 2,731 steps from the bottom of the tower to the top.
If they reach the top they escape and slime the chef on the way down.
Hot competition
The competition was open to 6-12-year-olds and judged at Buckingham Palace. The Duke of York chaired a panel of expert judges including YouTube sensation, Stampy.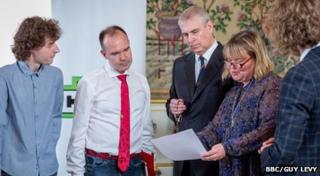 BBC/Guy levy
Alex will now be involved in the process of developing his game into an actual app working with CBBC and Aardman Animations to be filmed for a special Appsolute Genius programme to be shown in March 2015.