The new Band Aid 30 charity single has been criticised for being damaging to Africa.
The track, Do They Know It's Christmas, features top UK artists like One Direction, Ed Sheeran and Rita Ora and was released on Monday to raise money to help the fight against Ebola.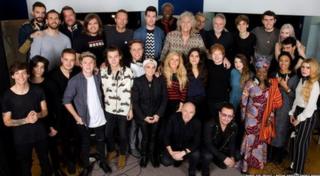 BAND AID TRUST / BRIAN ARIS / CAMERA PRESS
It's already become the fastest-selling single of 2014, shifting 206,000 copies. But several African artists have claimed the song actually reinforces negative stereotypes of Africa.
Criticism
Carlos Chirinos, the producer of an educational record by some of west Africa's biggest music stars called "Africa Stop Ebola", has spoken out about the Band Aid single saying: "It's worth doing it for the money and the money is needed, however it comes at a cost and the cost is the way in which Africa is being portrayed to the rest of the world."
He believes that the song could actually spread fear about Ebola and have a negative effect on tourism and trade on the continent.
Fuse ODG "felt awkward"
The criticism follows the news that the British-Ghanaian rapper Fuse ODG pulled out of being involved in the Band Aid 30 single because he didn't agree with the message of the song.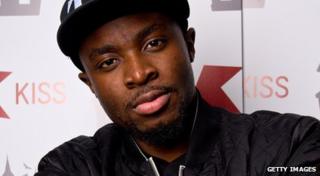 Getty Images
Sir Bob Geldof, who is a co-founder of Band Aid, has dismissed the general criticism of the record claiming it will raise much needed money for a good cause.
Speaking about Fuse ODG specifically Geldof said: "His thing was that you had to be positive about Africa, but then you have Angelique Kidjo and Emeli Sande who were of the same attitude and I said (to them) there's the world's press, tell them about your point of view.
"If there's a line you can't sing, change it and he (Fuse ODG) said he just felt awkward."
In a statement Fuse ODG said he initially agreed to be part of Band Aid 30 when he was approached by Geldof. But, on receiving the proposed lyrics, he felt the message of the Band Aid 30 song was not in line with the message of The New Africa movement, which is all about raising the profile of Africa and Africans.
In the UK, this is the fourth version of Band Aid's Do They Know It's Christmas?
The original was made thirty years ago and raised £8 million for famine relief in Ethiopia. It remains one of the biggest selling singles ever in the UK, having shifted 3.75 million copies.
In the coming weeks more charity songs to raised funds for Ebola are due out in countries including France, Germany and the United States.
Check out which artists did perform for Band Aid 30, and which lines they sing, by clicking here.