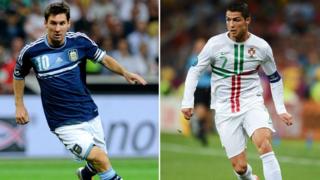 Who's better - Messi or Ronaldo?
The two best players in the world went face to face on Tuesday as Argentina took on Portugal in Manchester.
Lionel Messi and Cristiano Ronaldo took to the Old Trafford pitch as they met in an international game for only the second time ever.
The first meeting was in 2011 when both players scored during a 2-1 victory for Argentina.
On Tuesday night, Portugal beat Argentina 1-0 in an Old Trafford friendly that ran out of steam after the two best players in the world were taken off at half-time.
But the debate over who is better, Ronaldo or Messi, has been raging for a very long time.
So how do these football giants compare? Newsround gives you all the stats you need to make your own mind up.
Watch more Newsround videos