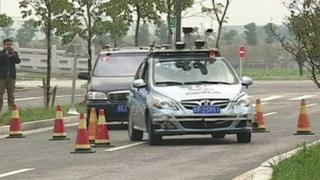 Driverless cars compete in race
China has held its sixth driverless car competition - without anybody behind the wheel!
In the race the unmanned vehicles had to make their way through obstacles.
The computer controlled cars were then rated on different aspects of their performance such as safety, smoothness and speed.
The contest wasn't quite the thrilling race you often see in motor sport.
The cars drove slowly and steadily round the course to get a good score.
BBC reporter Naga Munchetty reported on the event.
Watch more Newsround videos