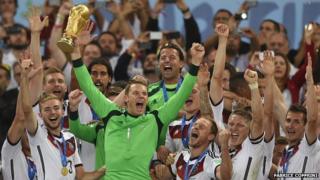 FABRICE COFFRINI
Europe's biggest football nations are being urged to boycott the next World Cup in protest at how the game is run.
The former chairman of the English Football Association (FA), David Bernstein, says getting the likes of England, Spain, and Germany to pull out of the 2018 tournament is the only way to force Fifa, who are in charge of world football, to change.
It comes after a recent report into the way the next two hosts were chosen was branded a joke.
Why boycott?
As BBC sport's David Ornstein explains here Fifa had ordered a two year investigation into whether Russia and Qatar unfairly won the right to stage the 2018 and 2022 World Cups.
But after they published their version of the results the man who actually did the investigating said they'd misrepresented his findings.
That made lots of countries angry about how Fifa operate, including England. The current FA Chairman Greg Dyke said the report, which also criticised England, was a bit of a joke.
Now Former Chairman David Bernstein believes that it's time that FIFA was forced into changing the way that it operates. In particular he would like to see FIFA president Sepp Blatter resign his position.
He also thinks it would send a powerful message if World champs Germany, along with traditional top teams like Netherlands, France and Italy all pulled out of Russia 2018.
"You can't hold a serious World Cup without them", said Bernstein. "They have the power to influence if they have the will."
But how likely is it that these teams will actually refuse to take part in Russia 2018? Newsround asked BBC Sport's David Ornstein.