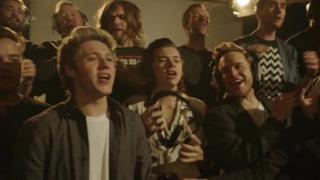 Band Aid 30 song is revealed
The new Band Aid 30 song has been broadcast for the first time.
The video shows performers including One Direction, Rita Ora and Ed Sheeran singing a new version of classic song Do They Know It's Christmas?
It was shown during the X Factor results show on ITV on Sunday.
The song is on sale to raise money to tackle the Ebola virus.
Organiser Bob Geldof, who was also behind the original Band Aid in 1984, said the song was a "little bit of pop history".
He said the video - which starts with very upsetting footage of Ebola victims - was "not meant for an entertainment show" but was something he thought people should see.
Watch more Newsround videos