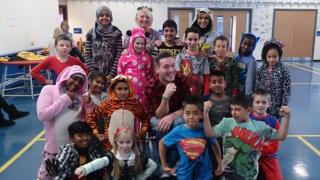 Kids get dressed up for CiN
Everyone is doing their bit for Children in Need, raising money to help disadvantaged kids across the country.
The One Direction boys will be performing on the set of EastEnders in Albert Square, Sir Bruce Forsyth will return for a special Strictly Come Dancing, and there'll be a special brand new episode of Tom and Jerry too.
All over the country you guys have been joining in the fun and at a school in Manchester today these kids were going Pj-tastic!
Watch more Newsround videos