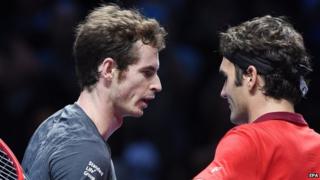 EPA
Andy Murray has crashed out of the ATP World Tour Finals after a 6-0 6-1 hammering by Roger Federer.
Murray was beaten in only 56 minutes by the Swiss world number two.
He told BBC Sport: "It has not really happened to me before like that where winning games has been an issue."
"I've had tough losses and heavy defeats but nothing quite like that," he said.
He added: "It's very frustrating, when I'm trying my best. I've never been in that position before in my whole career.
"Maybe I need to make some changes to my game, but that's the one good thing - I have time now to do that."
The match was Murray's heaviest defeat since he lost 6-1 6-0 to Novak Djokovic in Miami seven years ago.