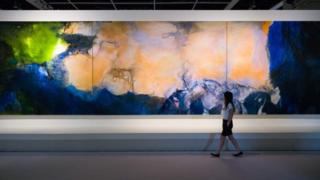 AFP/Getty
If you had all the money in the world, what would you spend it on?
A luxurious mansion? A fancy car? Or maybe buying every game or console ever invented?
How about a painting that costs £50 million ($65 million)!
The masterpiece above by the artist Zao Wou-ki is now the most expensive painting ever sold at auction by an Asian artist.
While it's a nice painting, at 10 metres long it's probably a bit big for most of our living rooms.
But it's still far from the most expensive painting ever sold - that was "Salvator Mundi" thought to be the work of Leonardo da Vinci which was auctioned for £346.3 million ($450.3m) in 2017.
It's not just paintings that can cost and an arm a leg either. Check out these eye-wateringly expensive items.
Most expensive Harry Potter book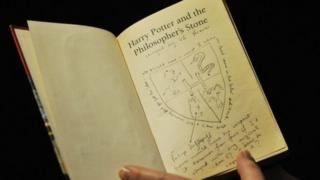 PA
In May 2013 rare first edition of Harry Potter and the Philosopher's Stone book annotated by JK Rowling herself sold for £150,000 at auction.
The one-of-a-kind copy of Harry Potter the first book in the series contains notes from the author and 22 of her original illustrations.
The book, which was published in 1997, was sold at Sotheby's auction house in central London.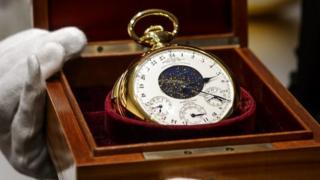 AFP/Getty
The world's most expensive watch was sold at auction for £13.4 million back in 2014.
Made from 24 carat gold and weighing half a kilogramme - the Graves Supercomplication was made for an American banker in the Thirties.
It took eight years for a Swiss watchmaker called Patek Philippe to finish making it.
The watch has 900 moving parts and 24 different features, including a calendar.
Most expensive teddy bear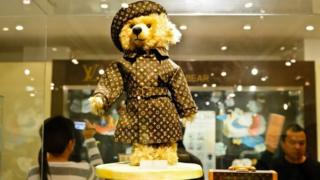 houtenspeelgoed.nu
This furry fashionista decked out in Louis Vuitton's finest is the most expensive teddy bear ever for sale
How expensive she is mostly comes down to her designer clothes and matching luggage.
She sold for nearly 2 million euros to renowned Korean collector Jessie Kim at a charity auction in Monaco back in 200.
You can see her on display at the teddy bear museum in JeJu, South Korea.
Most expensive musical instrument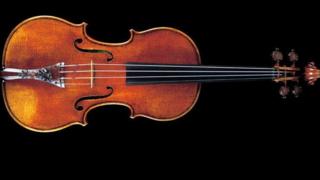 Stradavarius
The 'Lady Blunt' Stradivarius violin sold in an online auction for £9.8 million in 2011.
The violin is extremely rare, and is one of about 600 instruments made by Italian Antonio Stradivari still in existence.
Made in 1721, the violin was called 'Lady Blunt' after Lord Byron's granddaughter who first owned it.
All the money raised from the sale of the violin went to the Japan Earthquake and Tsunami Relief Fund.
Most expensive board game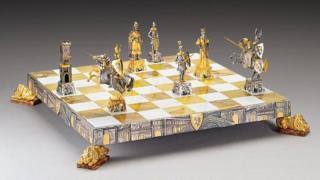 Chess.com
If you're a chess fan you'd probably love to play a game with this shiny set. But think again because you're unlikely to ever get your hands on anything this glam.
The Royale Jewel Company in Great Britain commissioned the set, made from solid gold and platinum, and features diamonds, rubies, emeralds, sapphires and even black and white pearls.
The king piece alone weighs 165.2 gms of 18 carat yellow gold and is priced at $100,000 by itself.
But if you want to the whole set you better start saving - it'll set you back £7.5 million ($9.8 million)!