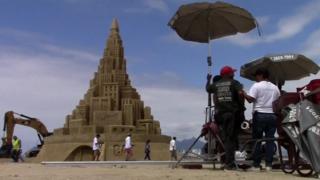 Is this the world's biggest sandcastle?
The team behind a huge sandcastle in the Brazilian town of Niteroi hope it will be named the tallest of all time.
The 12m high castle was designed by American artist Rusty Croft, who builds sand sculptures around the world.
The structure is made up of 20 truckloads of sand and took nearly a week to make.
Archie Lionce from one of the companies sponsoring the sandcastle build said they would find out if they've got the world record in the next few days.
Watch more Newsround videos