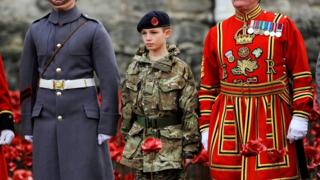 Final ceramic poppy planted
The final symbolic ceramic poppy has been planted at the Tower of London on Remembrance Day.
Tributes are being paid to servicemen and women who died in conflicts since the start of World War One.
Ceremonies are taking place around the UK and further afield to mark the anniversary of the armistice.
888,246 red ceramic poppies have been planted at the London landmark for the last few months.
Each one represents a British or colonial soldier killed in World War One.
The honour of planting the final poppy was given to 13-year-old cadet Harry.
Watch more Newsround videos