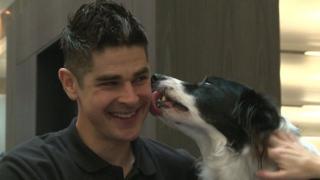 Meet the dog saved by a social network
Jasper the dog has been through a bit of an ordeal.
He went missing on the highest mountain in England - Scafell Pike.
Owner Adam shared a photo of Jasper on the internet, and hundreds of people offered to help search for him.
Amazingly Jasper was found - and couldn't wait to give Adam a friendly lick on the face.
Hayley met the adventurous pair when they popped into the Newsround office.
Watch more Newsround videos