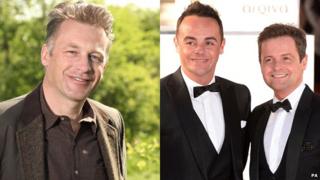 PA
TV presenter Chris Packham has written a letter to Ant and Dec asking them to stop "abuse of animals" in I'm A Celebrity... Get Me Out of Here!
Ant and Dec host the show in which contestants eat live insects, or have close encounters with snakes and spiders.
In his letter Chris described the trials as "out of date" and "silly".
He said teaching young viewers that it's OK to kill animals for entertainment is "a shame that I imagine neither of you will want to take to your graves".
He added: "The show has been running for years now. Surely it's time for it to mature."
ITV responded saying: "Ant and Dec are the presenters of the show, and as such are not involved with the formatting of the trials."
"ITV takes animal welfare very seriously and expert handlers are on hand at all times."