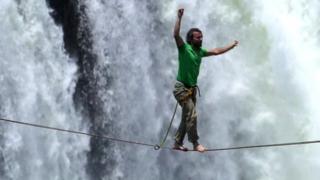 High wire artists cross waterfall
Two high wire artists have successfully crossed the Victoria Falls, on the border of Zambia and Zimbabwe in Africa.
The men, 26-year-old Lukas Irmler from Germany and 34-year-old Reinhard Kleindl from Austria, spent two years in training and balanced along a slack line across the falls.
Watch their amazing efforts here and definitely don't try anything like this yourself.