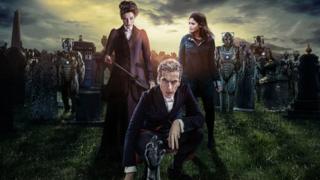 Doctor Who fans have been treated to the series eight finale, Death in Heaven.
SPOILER ALERT - DON'T READ ANY FURTHER IF YOU DON'T WANT TO KNOW ANY SPOILERS!
As expected, the episode was Cybermen crazy, and we also found out what happened with Missy and Danny Pink...
What do you think?
We won't say anymore, but we do want to know what you thought of the cliff-hanger finale!
Did it live up to your expectations? What did you like - or not like - about it? What should happen next?
This chat page is now closed. Thanks for all your comments.
Your comments
The episode was brilliant! I loved the Cybermen rising from the graves, but it was sad to see Danny as a Cyberman.
Michael, Oxford
I loved it. Brilliant acting from Peter and Samuel but Jenna blew me away. Wonderful. However, Nick Frost's introduction just confused me. All will be explained at Christmas I suppose.
Archie, Essex
I thought the finale was amazing, I'm starting to grow to love the brand new Doctor. Missy is amazing, I don't know how she is going to come back, and finally Clara - really going to miss her. But overall - amazing.
Mathusa, London
I think that the finale was brilliant. I hope Missy can come back because the she is one of my favourite villains.
Ewan, Barry
I thought the episode was very good. It was really good to see Gallifrey was still okay and that most people were fine apart from Danny, which was disappointing. But overall a good ending. The scene with Santa coming into the Tardis was funny.
Simon, Leicester
I found it really sad because I wanted Danny and Clara to be together again and I didn't expect Clara to leave the Doctor. I will really miss her and now the Doctor is alone again.
Namood, London
I thought it was really cool and Danny in the Cyberman suit was a nice twist. I hope we get to see Missy again as I don't believe she died. Plus the cliff-hanger at the end was so funny!
Ben, Hatfield
I really liked the Doctor Who finale because of how Danny Pink was a good Cyberman and how the Cyber-Brigadier saved his daughter from falling to her death. I also liked it because Missy was a very mysterious and 'bananas' character.
Oliver, Huddersfield
I thought it was absolutely amazing, especially the Cybermen, and it showed how important love and family are. Can't wait to see what Santa gives the Doctor for Christmas!
Benedict, Carlisle
Doctor Who was amazing! I'm the biggest Doctor Who fan ever! It didn't live up to my expectations, it was even better! I cannot wait till Christmas!
Aoife-Mae, Swansea
I thought last night's episode was excellent! It couldn't have been much better with all the action it had in it. I loved the twist with Danny. I feel quite sad that Clara is leaving the Doctor as she was a good companion, but it's a definite 10 out of 10 from me!!
Ethan, Buxton
I thought it was awesome and I loved seeing the Santa at the end. My mum almost cried when she saw what happened to Danny.
Alastair, Rossendale, England
I think the finale was amazing, it was really dramatic how the Cybermen worked together on the plane and how one of them saves the woman!
Teegan, Sandbach
It was great! I couldn't take my eyes off the TV. I'm glad he's gonna find a new companion. I think there should be a Christmas special.
Becky, St Martins
Doctor Who was amazing. I loved it so much. I liked the last bit with Santa!
Heidi, London