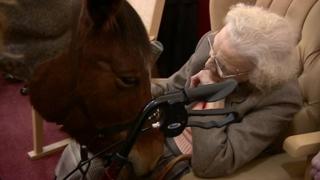 Horse is popular care home visitor
A nine-year-old horse has been visiting care homes in Shropshire and has become a hit.
Rupert is a regular visitor to residential homes across the county.
He entertains and interacts with people.
It is thought spending time with horses can help to reduce stress and improve hand-eye coordination.
BBC reporter Anjana Gadgil has been to meet Rupert.
Watch more Newsround videos