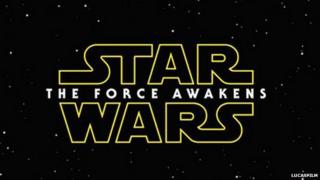 Lucasfilm
The new Star Wars film will be called The Force Awakens, it has been revealed.
The seventh film in the sci-fi series will be set about 30 years after the events of the last film, Star Wars: Episode VI Return of the Jedi.
The announcement was made on social media on the final day of production at Pinewood Studios, near London.
The cast will include new member Daisy Ridley.
Brendan Gleeson,who played Ron Weasley's brother in Harry Potter, will also star.
Original cast members Mark Hamill, Harrison Ford and Carrie Fisher return.
The film is directed by J J Abrams and is due to be released on 18 December 2015.