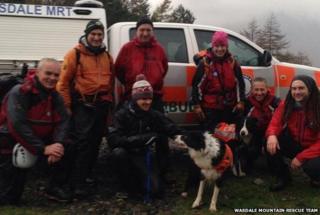 Wasdale Mountain Rescue Team
A dog that sparked a massive social media campaign after going missing on a mountain has been found alive.
More than 6,000 people joined in with online efforts to track down Jasper after the story of his disappearance hit the news.
The Border Collie vanished on Monday when out for a walk up Scafell Pike in the Lake District with his owner.
But dog loving volunteers joined mountain rescue and police in the search and he was found on Thursday.
Over the moon
His owner, Adam Nolan, said he was "over the moon", having previously vowed not to stop looking for Jasper until he was home safe and in front of the fire.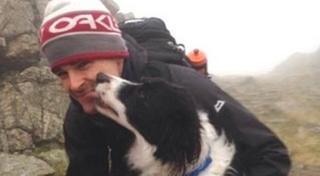 Wasdale Mountain Rescue Team
After Jasper's disappearance Mr Nolan had put out desperate pleas for people to help look for him on social media.
The hash-tag he used went viral and he has thank everyone involved in bringing Jasper back to him.
He said: "Naturally, there are numerous individuals who I would like to thank, but at the moment I would say a huge thank you to the Wasdale Mountain Rescue Team for their heroic efforts."
A spokesman for Wasdale Mountain Rescue said: "The team are pleased to announce that we have been involved in the successful rescue of Jasper. "