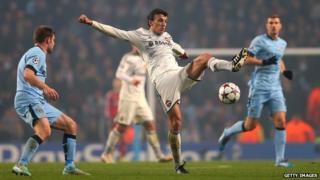 Getty Images
Manchester City lost 1-2 against CSKA Moscow last night.
The side are now bottom of Group E in the Champions League.
CSKA Moscow scored two goals in the first half. Midfielders Fernandinho and Yaya Toure were also sent off after the break and are ruled out of their next home game against Bayern Munich.
The Manchester team now have no wins and only two points from four group games.
The side must beat Bayern and win at Roma to stand any chance of progression.