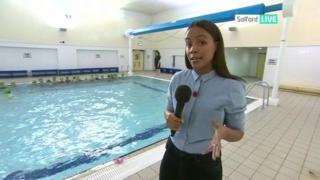 Call for more swimming in schools
Nearly half of kids in English primary schools can't swim a length on their own, according to a new report out today.
The Amateur Swimming Association says more than 1,000 primaries do not offer swim lessons, even though it is one of the recommended skills to learn at school.
Experts say more needs to be done to make sure children can stay safe around water.
Researchers say pupils should be able to swim 25 metres without help by the time they leave primary school and should spend about 25 hours learning to swim.
Leah went along to a swimming lesson this morning to find out more.
Watch more Newsround videos