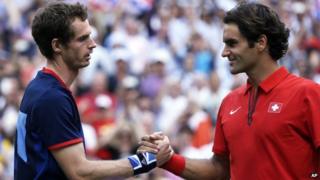 AP
Andy Murray has been drawn in the same group as Roger Federer in the ATP World Tour Finals at London's O2 arena.
Murray has been on good form recently, winning three titles in just six weeks in order to qualify for the end of season tournament.
The finals see the best eight players in the world split into two groups.
Japan's Kei Nishikori and Canadian Milos Raonic join Murray in group B while world number one Novak Djokovic is in group A.
Round Robin
Players in each group use a round robin format, all playing against each other.
The top two players in each group then progress to the semi-finals.
The tournament starts on Sunday with Murray up against Kei Nishikori at 2pm.
Group A
•Novak Djokovic (Serbia, world number one)
•Stan Wawrinka (Switzerland, 4)
•Tomas Berdych (Czech Republic, 7)
•Marin Cilic (Croatia, 9)
Group B
•Roger Federer (Switzerland, world number two)
•Kei Nishikori (Japan, 5)
•Andy Murray (Great Britain, 6)
•Milos Raonic (Canada, 8)