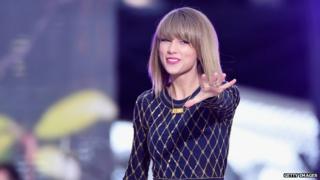 Getty Images
Pop star Taylor Swift has removed all of her singles and albums from the free music listening site Spotify.
The singer has taken down every one of her songs having previously withheld her new album, 1989, last week.
She has not yet commented on the reasons but has been critical of fans accessing music for free in the past, saying it undervalues artists.
Spotify say they hope she will change her mind soon.
In a statement they said: "We love Taylor Swift, and our more than 40 million users love her even more!"
The music site also added: "We believe fans should be able to listen to music wherever and whenever they want."