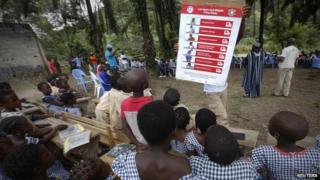 Reuters
A British appeal to help people affected by Ebola, in West Africa, has raised more than 12 million pounds in six days.
The Disasters Emergency Committee said the UK government contributed five million pounds, with the public also raising millions.
Buckingham Palace confirmed that the Queen had also donated to the appeal.
Around five thousand people in West Africa have lost their lives to the Ebola disease.
Watch Hayley's report to find out what the money raised will be spent on.