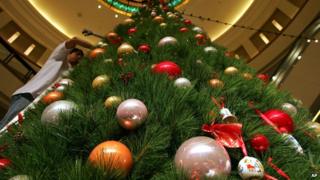 AP
Halloween is over, and bonfire night is nearly here, meaning Christmas is getting closer and closer.
With supermarkets stocking up on Christmas goods as early as August, Christmas lights being switched on, and Christmas albums churning out the festive hits in some shops, is it too early to start building up to Christmas?
This chat is now closed
Your comments
It's too early because my birthday and my Dads birthday is before Christmas!
Adele
It's only 50 days! I love Christmas
Rose, Essex, England
My name is Chloe, I am 11 years old I am counting down to Christmas and eating mince pies. We are going Christmas shopping too for the family and friends.
Chloe
Halloween has just ended, we have not had bonfire night and it's not even December yet. We think we should all wait instead of being too impatient.
Class 5J, Hove, England
I think Christmas has started early because my Grandma has already got me my Christmas present.
Jessica, London, England
I feel like Christmas is nearly here but I do think snow is needed to make me feel more Christmassy.
Lara, Port Talbot, South Wales
I'm feeling quite Christmassy. It's only a month and a bit away.
Fin, Eastbourne, England
I felt Christmassy the day I got back to school from the summer holidays and I am already eating mince pies!
Ava, Somerset, England
I'm feeling very festive. I can't wait for Christmas! I LOVE all the prep for Christmas. You know it's really started when you start to get Christmas cards!
Anna, Norfolk, England
I absolutely LOVE Christmas and don't think for one minute that it has started too early! I think we should all enjoy Christmas as early as November and enjoy being with family and friends.
Libby, Manchester, England
I'm feeling Christmassy because we're rehearsing Christmas songs in the orchestra for our school show. Products in the shops also make me feel Christmassy especially with the darker nights too!
Dana, Falkirk, Scotland
I am feeling unbelievably christmassy, the other day I was singing Christmas songs with my teacher before school!
Jacob, Surrey, England
Me and my friends have already been talking about presents but watching the adverts at the moment feels a bit weird.
Laura, Gloucester, England
I am feeling Christmassy because it it only 51 days!!
Ellen, Warwickshire, England
I don't really feel christmassy because it isn't even December, which doesn't make it seem really close to Christmas,
Emelia, Manchester, England
You must ask your parent, teacher or guardian for permission before you send us a comment.
We may show your comment on our website, the CBBC YouTube channel or in our TV bulletins. We'll show your first name and which town you're from - but we won't use your details for anything else.