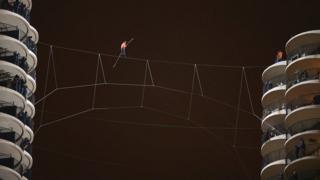 Tightrope walker sets new record
Tightrope walker, Nik Wallenda, has broken two world records, for some serious high-wire antics in Chicago, in America.
Watched by thousands of people down below, he first walked up a really steeply sloping tightrope without a safety net or harness.
If that wasn't enough, he then walked blindfolded between two skyscrapers to finish off the challenge.
It took him six minutes 52 seconds to complete the first stage and then completed the walk between the Marina City Towers in one minute 17 seconds.
Watch more Newsround videos