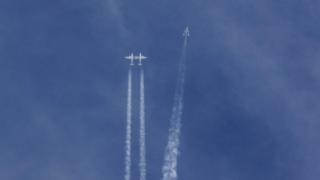 Investigation starts into spacecraft crash
An investigation into what caused a spacecraft to crash, has said that a safety device activating at the wrong time, could have been the reason.
Air safety investigators say the device, designed to slow down the craft, activated at the wrong time without a command from the pilots.
But they say it's too soon to determine the exact cause of the crash and it may take as long as a year to carry out the investigation.
Virgin Galactic's SpaceShip Two, crashed during a test run over the desert in California.
One pilot was killed and another is recovering in hospital.
Virgin Galactic had aimed to send tourists into space early next year, and has already taken more than 700 flight bookings costing more than £156,000 each.
Watch more Newsround videos