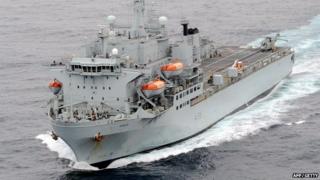 Ship to help Ebola outbreak arrives
A British military ship has arrived in Sierra Leone, in West Africa to help deal with the Ebola outbreak.
R.F.A Argus left the UK a few weeks ago, carrying food, medical equipment and vehicles, to help treatment centres, for people suffering from the virus.
The BBC's Andrew Harding, was there when it arrived in Freetown.
Watch more Newsround videos