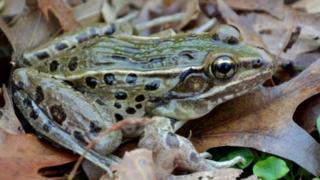 New species of frog discovered
Scientists have confirmed that a frog living in New York, America, is a brand new species.
The new species of leopard frog was discovered by Jeremy Feinberg of Rutgers University in New Jersey. He heard the frog's unusual call and went to investigate.
It took two years for Jeremy to get a group of geneticists - scientists who study how we are made - to prove that the frogs were a brand new species.
This is the first new species of frog found in the region for 30 years.
The frogs were discovered living on Staten Island, a grassy wetland area right next to the city of New York.
Video pictures from PLOS Media.
Watch more Newsround videos