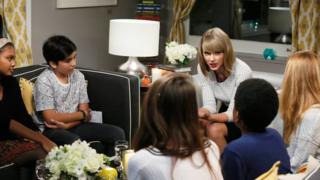 AP
Taylor Swift has been to talk to schoolchildren in New York about her love of reading and writing.
The singer wrote a 400-page unpublished book based on her life and friends when she was in her early teens.
She told the schoolchildren that song writing is now what inspires her most.
On Wednesday, the singer announced she will donate her portion of proceeds from her album's single "Welcome to New York" to New York City public schools.