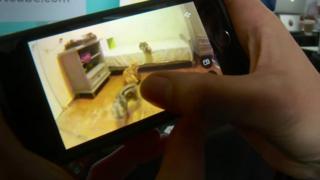 New app to play with pets
A new device has been developed that lets owners watch and play with their pets on the go.
The remote controlled device is called the PetCube and allows owners to watch and play with their pet, wherever they are.
It has a camera, speaker and a laser built in, which can be controlled at the touch of a finger on a smartphone or tablet.
The designer hopes the device will help to keep pets active while they're at home.
It doesn't come cheap though, priced at $179 (about £105).
Watch more Newsround videos