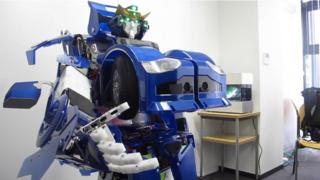 Amazing Transformers robot
Ever wondered what a Transformers robot would look like in real life?
Tech-companies Brave Robotics and Asratec Corp have teamed up with Tomy, the Japanese toy-maker, to build a fully functioning Transformer robot.
Called the J-diete Quarter, this impressive guy stands at around 5ft tall and weighs in at 34kg.
When in car mode, the the robot can also reach speeds of 6mph.
The designers behind J-diete are planning to make a much larger Transformer in the future with the possibility of it being able to accommodate a driver.
Unfortunately, there are no plans to sell the robot to the public just yet, as the designers have said "it is not a toy"!
Watch more Newsround videos