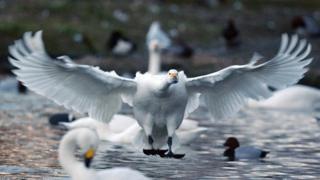 Wildfowl & Wetlands Trust
The UK's smallest and rarest swan - the Bewick - is disappearing.
The Wildfowl & Wetlands Trust (WWT) says there's been an ''alarming crash in numbers, according to new figures.''
Since 1995 more than a third of Bewick's swans, that spend the winter in Europe, have disappeared.
The total population peaked at 29,000.
But the latest figures show that, by 2010, there were just 18,000 left.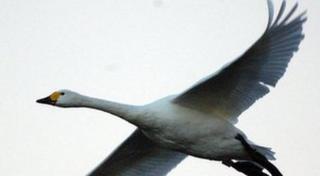 Wildfowl Wetlands Trust
WWT scientists fear that the next count in the next few months will reveal a further, more worrying decline.
Sir Peter Scott started studying Bewick's swans 50 years ago, and was the first to record the facial markings of the birds in the flock that roosted at WWT's Slimbridge HQ.
Now his work is one of the most intensive single-species studies in the world and has recorded in detail the lives of nearly 10,000 individual swans.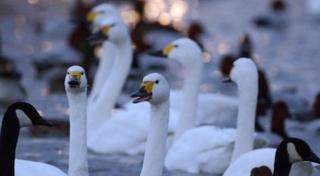 Wildfowl Wetlands Trust
Swan research now links researchers throughout the migratory swans' range in northern Europe and Russia.
They have managed to get international protection for a chain of wetlands along the way that are vital for the swans to feed and rest.
WWT Head of UK Waterbird Conservation Eileen Rees says: ''We need to find out and address what's hampering breeding, and reduce the number of preventable deaths along their migration route.''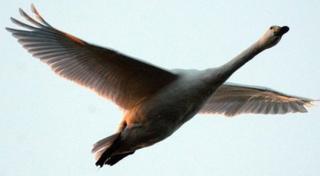 Wildfowl Wetlands Trust
What is affecting swan population?
Illegal hunting: Bewick's swans have been x-rayed for forty years. Many live with shotgun pellets in their bodies.

Power lines: The flight paths of geese and swans is being studied in relation to power lines. Electricity North West, say they will route their lines where there is less risk of collision or attach diverters to alert birds.

Wind farms: Tracking devices plot Bewick's swan flight paths across the North Sea on behalf of Department for Energy and Climate Change so they can advise on the location of large offshore wind farms to reduce the collision risk.

Lead poisoning: The birds ingest spent lead shot used in shooting
Bewick's swans reach maturity at four years' old.
When breeding successfully each pair produces just one or two young a year on average.
So every adult swan that dies a preventable death is an unnecessary and very significant blow to the species.