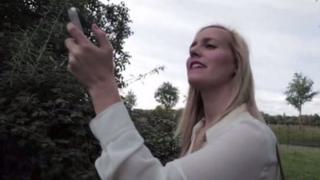 Kickstarter
Is it a swallow, a lark or a dove?
A new app that can automatically recognise bird sounds is to be launched in spring.
Warblr has been developed by two scientists.
The app works by identifying a recorded sound and then returns a list of the most likely results.
Dan Stowell, who helped developed the technology said the app was similar to the music-recognition service Shazam.
But there are still problems that need to be solved.
In three separate attempts, as part of a BBC test, the app was unable to correctly identify the bird.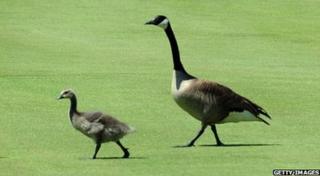 Getty Images
"It is not perfect... this is obviously very new technology, so we have a bit of work to do still," said Warblr's co-founder Florence Wilkinson.
She demonstrated the app to the BBC by recording a Canada goose.
But she said that interference from a "screaming child" caused the app to mis-identify the calls as being a crow.
The correct answer appeared in second place.
In test two, she tried to identify a moor hen and some coots.
"I don't know if we can count that as a victory because the coot came up as the last result on the list although they are all pretty close," she said.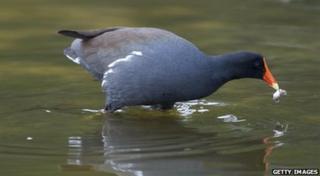 Getty Images
"We've got a few that are clearly wrong there, we've got the black-tailed godwit, a fieldfare, for example.
Although other apps, such as Bird Song ID, which can recognise and identify bird calls exist, Warblr's developers claim its database is significantly larger.