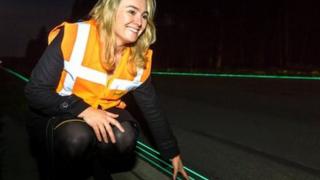 Daan Roosegaarde
Special glow-in-the-dark road markings have been installed in the Netherlands to make roads safer for cyclists and drivers.
Route 66 of the Future uses special green paint, that is charged up by daylight.
It's designed to be clearer than the current cat's eye reflective spheres.
One of the designers, Daan Roosegaarde, says they're testing glow-in-the-dark cycle lanes.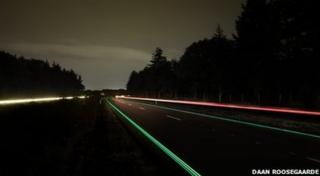 Daan Roosegaarde
"The three lines merge into one and you feel that it guides you. With fog, you see them more than with standard light,"
Mr Roosegaarde worked on the project - with Hans Goris, a civil engineer at infrastructure firm Heijmans.
He says the photo-luminescent paint he uses uses much less energy.
He says planners in the UK have already shown an interest.
"There will be big projects. We have requests from China and India - these are places where you need safe roads that are disconnected from the energy grid."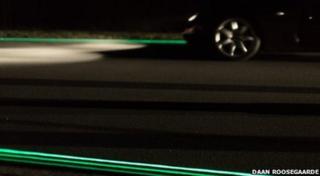 Daan Roosegaarde
A stretch of road at Oss, near Nijmegen in the south of the Netherlands, is being used to showcase the design.
Their first cycle highway, called the Van Gogh-Roosegaarde Light Emitting Bicycle Path, is due to be launched in December in Nuenen, which was once home to the Dutch post-impressionist artist.