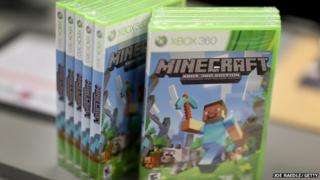 Joe Raedle/Getty
The new boss of Minecraft has said that a sequel to the game would be unlikely.
Phil Spencer, the head of Xbox, was asked in an interview if he was thinking about making a sequel to the hugely popular game.
He replied that he didn't think a Minecraft 2 would really make sense, and that he wanted to meet the needs of the fans first, before making any changes.
Earlier this year, Microsoft took over Minecraft from Swedish company Mojang.
Some of the fans were worried that they might change the game too much.