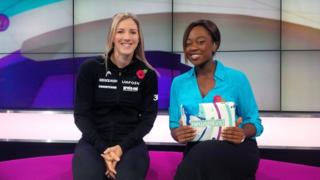 Laura Massaro speaks to Newsround
Men earn more prize money than their female counterparts in 30% of sports, according to a BBC Sport study.
The biggest differences in prize money were found in football, cricket and golf.
"There is a gap, it needs to be closed but it's not going to happen overnight. We do know that women's sport is very exciting, we know it can draw really big audiences but we need more media coverage and more commercial investment," says Minister for Sport Helen Grant.
A total of 56 global sports were looked at in the study.
Out of 35 sports that pay prize money, 25 pay equally and 10 do not. Fourteen sports, including rugby union and hockey, do not pay any prize money at all.
In squash, Laura Massaro - the first English woman to hold both world and British Open titles at the same time - has been key to bringing equal prize money to the British Nationals, and increasing women's prize money for the British Open.
But for winning her world title, she received £16,300 less than the reigning men's world champion Nick Matthew, who secured £28,600 when he won his third world crown in November.
Watch more Newsround videos