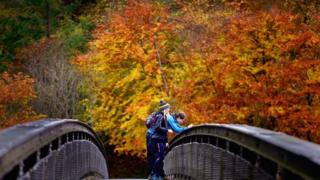 Why is Autumn so amazing?
It might be a bit depressing having dark evenings now the clocks have gone back.
But for all you animal lovers out there it's time to get excited because Autumnwatch is back tonight.
There'll be loads of action, from the thousands of birds gathering to fly off to warmer countries, to the Red Deer who put on an amazing show at this time of year.
Newsround caught up with Autumnwatch presenter Chris Packham to find out why autumn is one of his favourite seasons.
Watch more Newsround videos