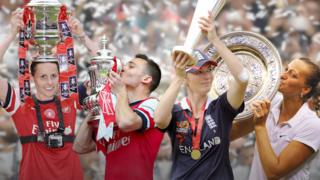 Men earn more prize money than their female counterparts in 30% of sports, according to a BBC Sport study.
The biggest differences in prize money were found in football, cricket and golf.
"There is a gap, it needs to be closed but it's not going to happen overnight. We do know that women's sport is very exciting, we know it can draw really big audiences but we need more media coverage and more commercial investment," says Minister for Sport Helen Grant.
A total of 56 global sports were looked at in the study.
Out of 35 sports that pay prize money, 25 pay equally and 10 do not. Fourteen sports, including rugby union and hockey, do not pay any prize money at all.
Before 2004, the study found only athletics, bowls, skating, marathons, shooting, tennis and volleyball paid equal prize money.
In the last ten years, nine more sports have starting doing so with five - diving, sailing, taekwondo, windsurfing and some cycling events - achieving equality in the past couple of years.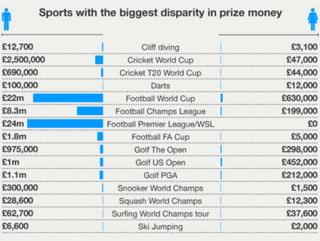 Female footballers are rewarded significantly less than male players.
For winning this year's World Cup in Brazil, Germany received over £21m more than their female Brazilian team did after they were crowned World Champions in 2011.
This season's men's FA Cup winners, a competition watched in more than 120 countries, will secure £1.8m in prize money while the team that lifts the Women's Cup will only win £5,000.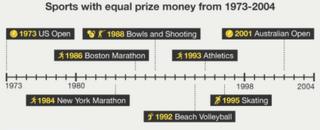 The Football Association has said men's and women's football were incomparable, describing them as "polar opposites" in the size of audiences they attract around the world.
In squash, Laura Massaro - the first English woman to hold both world and British Open titles at the same time - has been key to bringing equal prize money to the British Nationals, and increasing women's prize money for the British Open.
But for winning her world title, she received £16,300 less than the reigning men's world champion Nick Matthew, who secured £28,600 when he won his third world crown in November.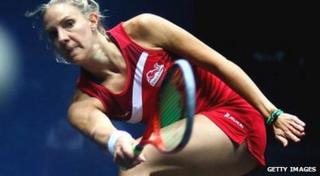 Getty Images
Andrew Shelley, chief executive of World Squash, said the sport's World Championships would bring in equal prize money "soon".
Tennis was the first sport to pay equal prize money when the US Open started doing so in 1973.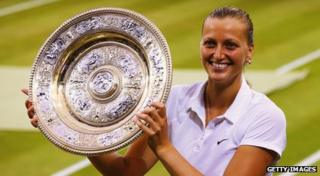 Getty Images
WTA Chief Executive Stacey Allaster, who runs the main organisation representing women's professional tennis, says "it does not make any sense" that top female athletes in other sports are missing out on a greater share of sponsorship money and media exposure.
The study, which looked at prize money only and does not include wages, bonuses or sponsorship, was commissioned ahead of a conference on Thursday aimed at transforming sport for the benefit of every woman and girl in the United Kingdom.