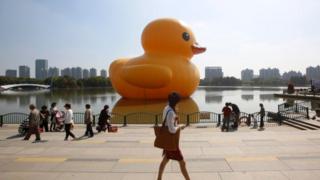 Giant duck visits Shanghai in China
A giant rubber duck that's been on a world tour has popped up in Shanghai in China.
70,000 people flocked to see it in the city's Century Park.
The crowds were so big, authorities had to stop people entering the park.
The duck is 18 metres tall and was created by Dutch artist Florentijn Hofman.
Watch more Newsround videos