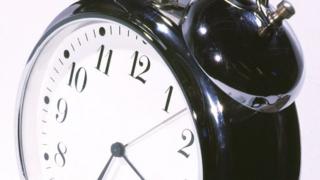 Comments: What will you do with an extra hour?
On Sunday we all get an extra hour in bed - because the clocks are going back at the end of British summer time.
It means we effectively get up an hour later, but we will have darker evenings.
The Sun isn't up for as long in autumn and winter, so clocks are changed twice a year to make the most of daylight.
Clocks are usually put forward an hour on the last Sunday in March, and put back an hour on the last Sunday in October.
A children's charity is calling on families to do something special with the extra hour instead of wasting it in bed!
I'll play games or watch the TV.
Ikra, Halifax, England
I will probably have a shower and then go make a cheese and bacon melt!
Morgan, Leeds, England
I will spend my extra hour riding my bike.
KD, Leeds, England
In my extra hour I'm going to sleep, watch TV or play the computer.
Syntyche, Bilston, England
With my extra hour I will bake some chocolate chip cookies and give them to my friend' and family. I will also watch some CBBC while they bake!
Olivia, Manchester, England
Thanks for sending us your comments. This chat page has now closed.
Watch more Newsround videos