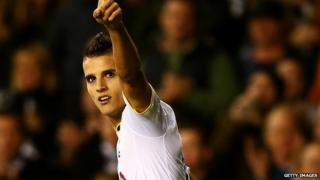 Getty Images
Mauricio Pochettino described Erik Lamela's wonder-strike during Tottenham's 5-1 win over Greek side Asteras Tripolis as "unbelievable".
Lamela scored twice, the first an outrageous 'rabona'-style strike, wrapping his left foot around his right leg to curl the ball in from 20 yards.
"It was a great goal, maybe the best by one of my players," said Pochettino.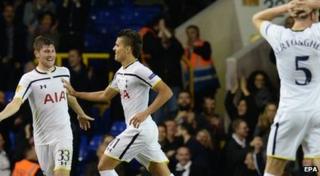 EPA
A hat-trick from Harry Kane helped Tottenham get their first win in the Europa League group-stage.
The striker ended the game in goal when keeper Hugo Lloris was sent off, and conceded from the first shot he faced.
The victory moves Spurs level with Besiktas at the top of group C.
Their next game is away at Asteras on 6 November.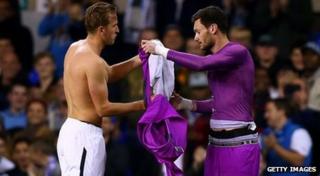 Getty Images
What is a rabona?
A method of kicking the football with the kicking leg wrapped around the back of the standing leg, so it appears the player has their legs crossed.
The first reported rabona happened in a league game in Argentina in 1948 and was performed by Ricardo Infante.
Soon after, a magazine front cover featured Infante dressed as a pupil with the caption 'Infante played hooky'; rabona means to skip school in Spanish.
Diego Maradona, Roberto Baggio, Gianfranco Zola and Paul Gascoigne are among the famous players who have performed a successful rabona during a game.