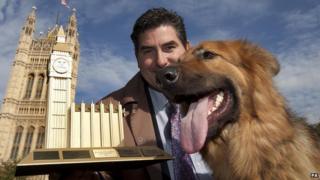 PA
Diesel the German Shepherd has been crowned the 2014 Westminster dog of the year winner.
The event which takes place every year, sees politicians dogs take part in a series of challenges such as jumping over hurdles.
Diesel, who's two and a half, was adopted from a dog rescue charity when he was a puppy.
Barking at pigeons, catching biscuits and having his tummy tickled are just some of Diesel's favourite things.
His owner, MP Rob Flello, said he was "delighted" and Diesel was "taking it all in his stride".